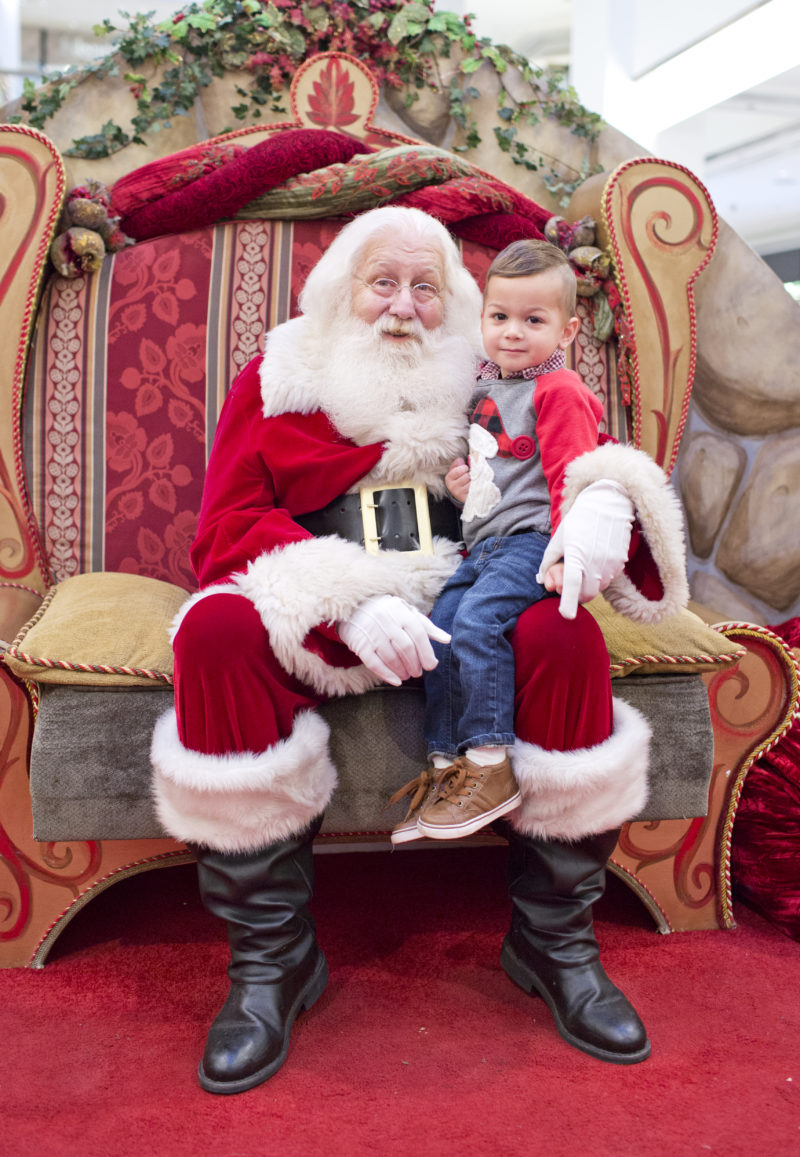 It's the first day of 2018, and I'm going to start it off with a blog post. (You know, hoping that this sets up some sort of consistent blogging trend for the year.)
The days between Christmas and NY always go by in a lazy blur, and that was especially the case this year. It's been unusually cold in Chicago–the kind of cold we usually on see for a couple of days each winter–and we've hardly left the house in the past week. It's been nice to hunker down, take a lot of naps,  and watch Finn play with all of his Christmas goodies, but we've also all been a bit stir crazy.
Still, this is a great holiday season. We crammed in SO. MUCH. STUFF., checking off our entire list of Christmas-y activities: a ride on the Santa train, zoo lights, a couple of visits to Santa, holiday museum visits, Chriskindlmarket (at Wrigley and downtown, this year), drives around neighborhoods with crazy good light shows,  A LOT of baking, and more. So, I guess we earned a week of being homebodies.
Plus, as usually happens once we come off of the adrenaline-induced stupor that is a very busy holiday season, we're all sick.
But I wanted to share the photos from our Christmas week which was, fingers crossed, our last as a family of three.
I took Finn downtown to visit Chicago's Best Santa, who he has seen for three years running. He practically jumped into his arms.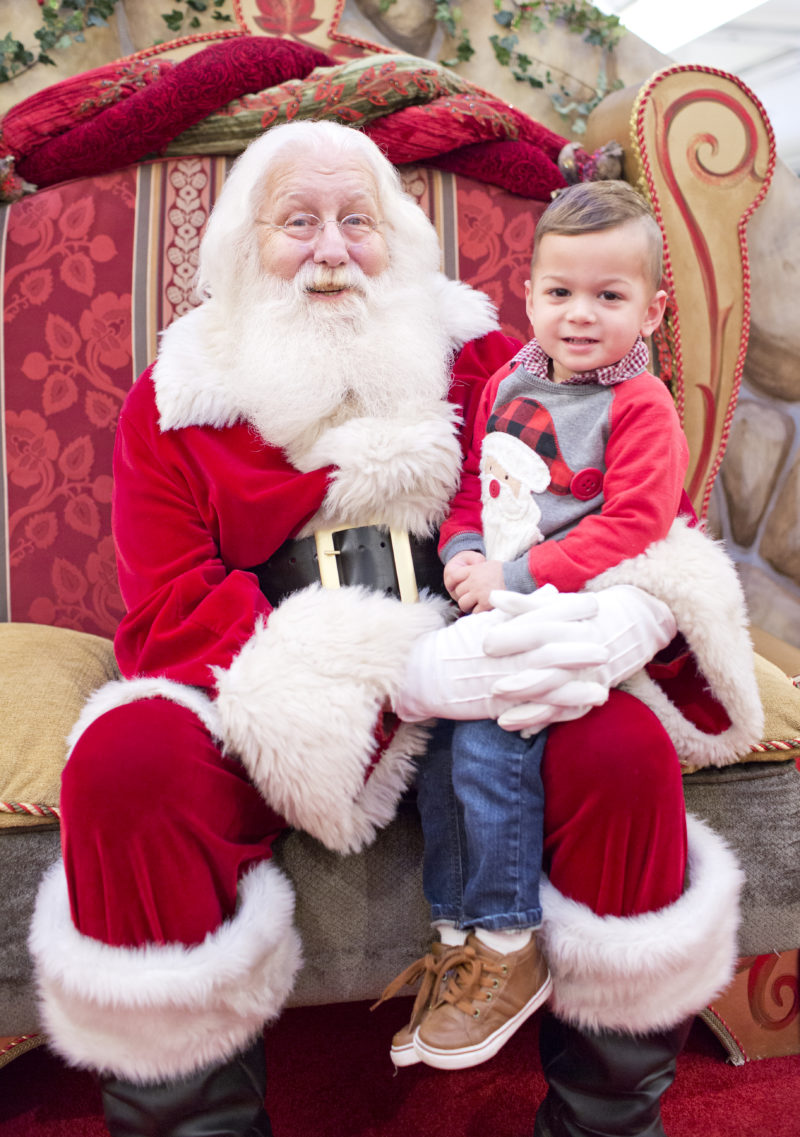 For the first time in as long as I can remember, we got SNOW at Christmas! It snowed almost the entire day on Christmas Eve, and, luckily, it was still warm enough to go out and play in it.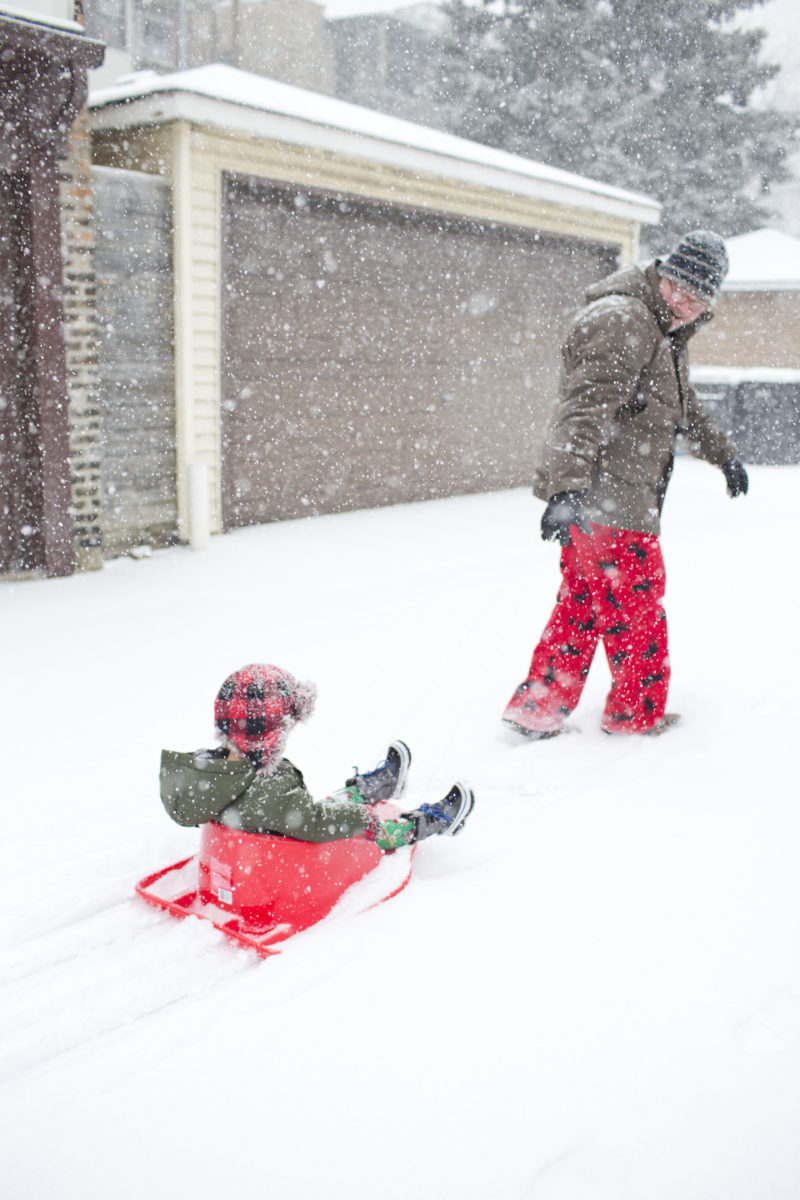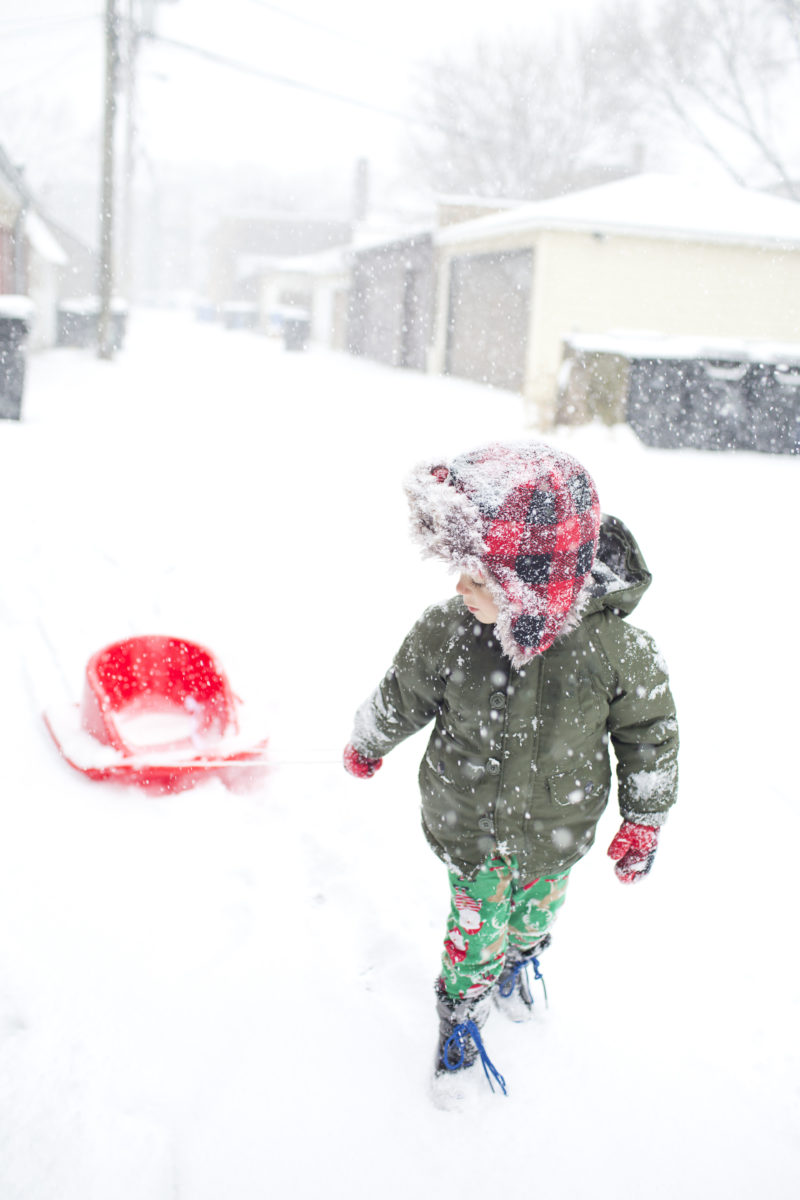 Pops and Finn, catching snowflakes with their tongues.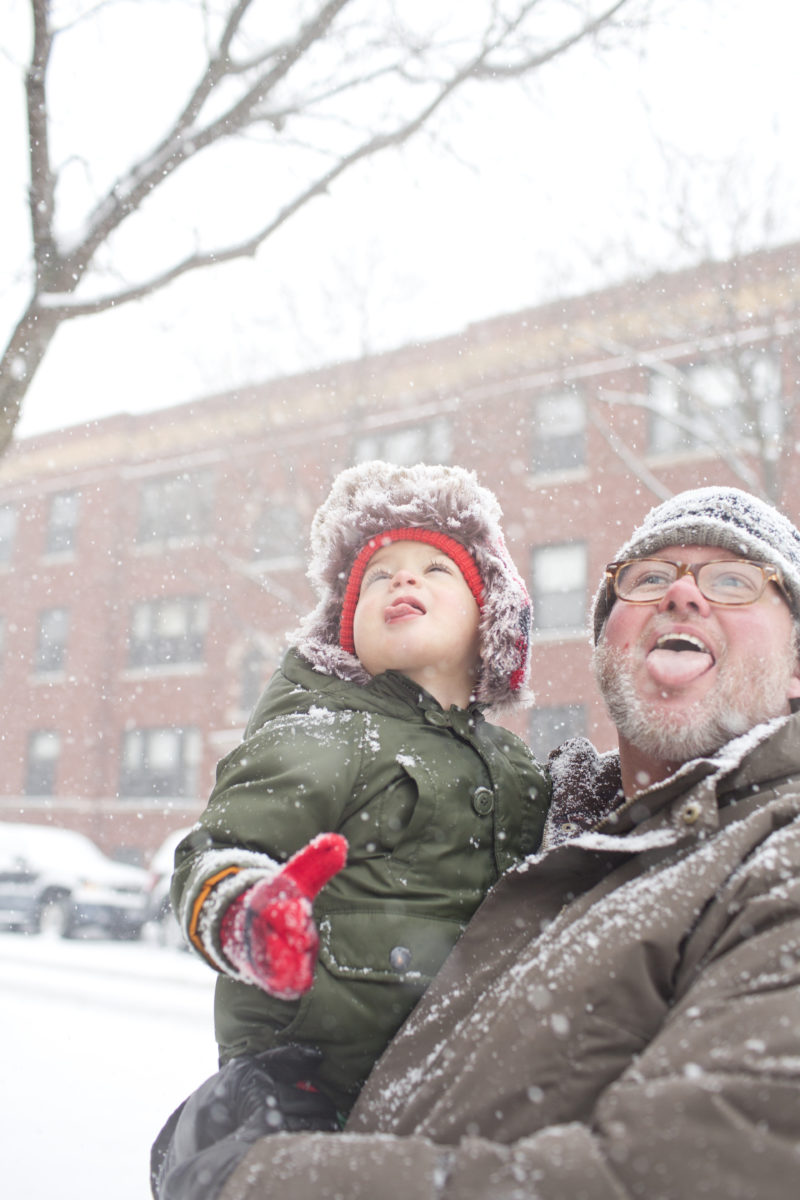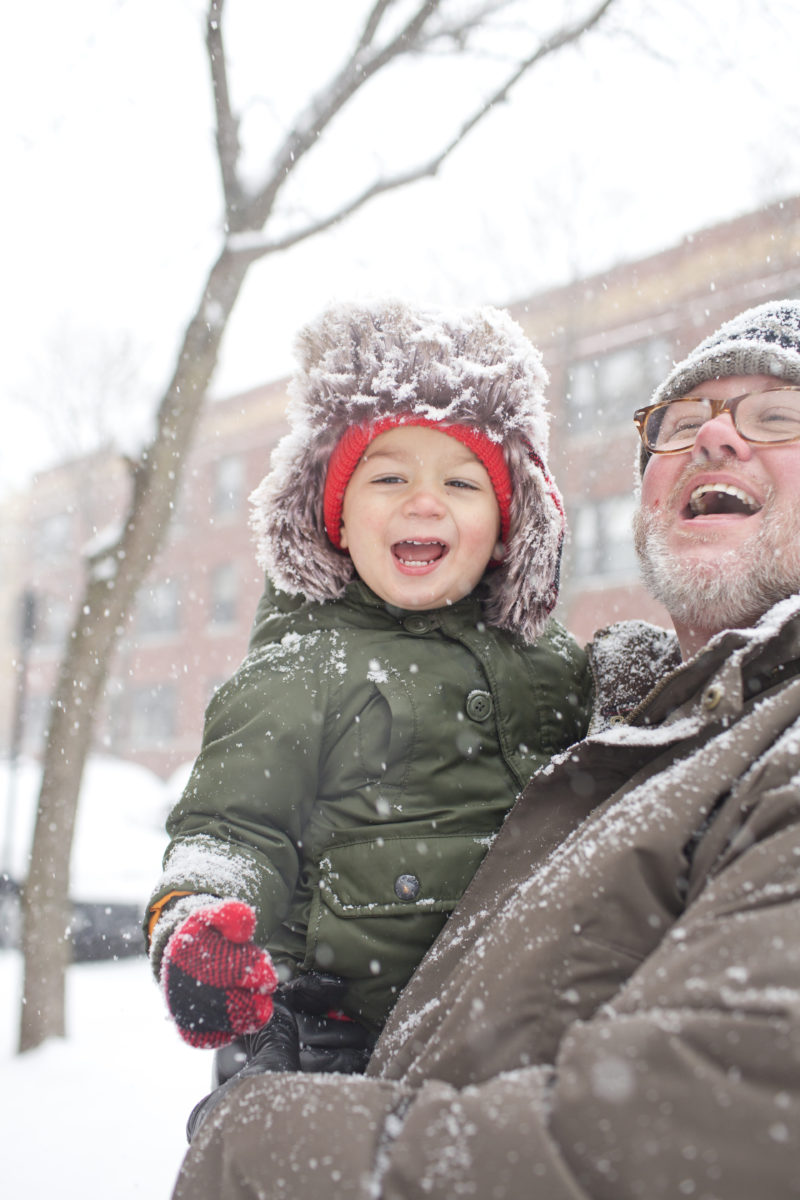 Of course, we had to have hot cocoa as soon as we came in. Pops taught Finn how to say "cheers," which he thinks you must say with every single gulp.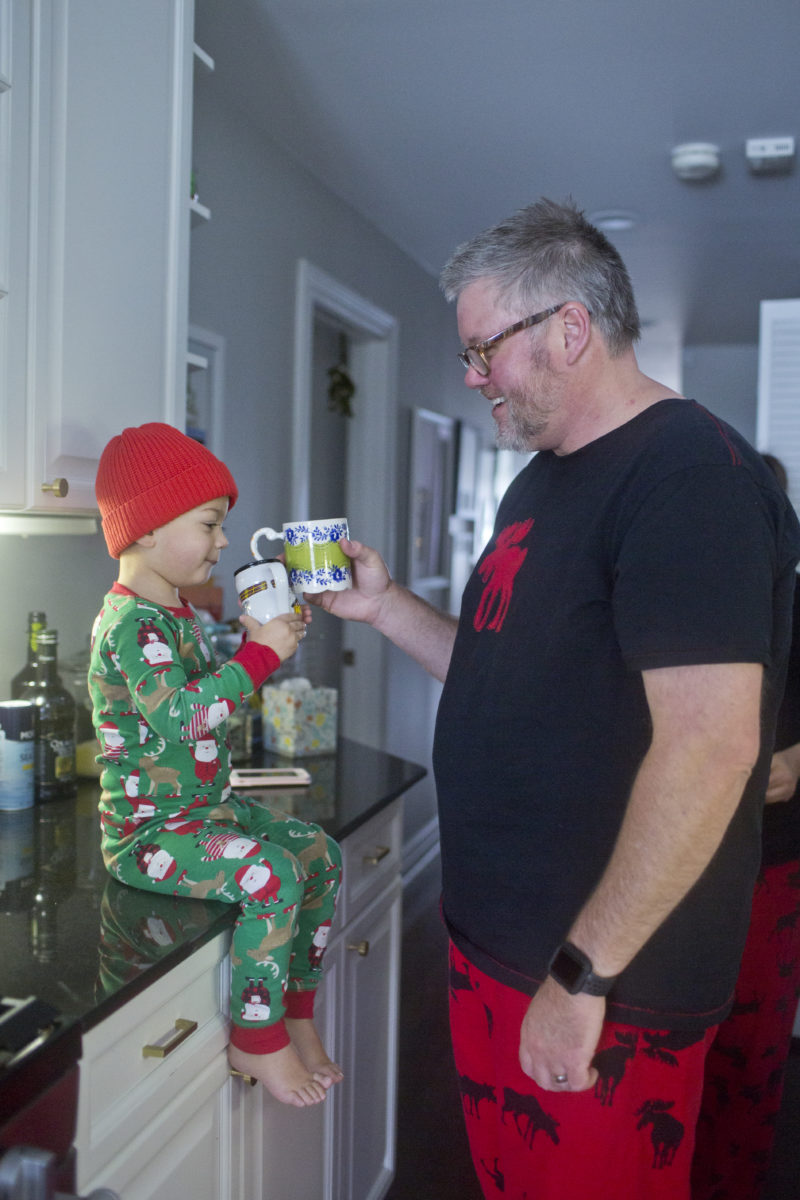 We've gone to the same place for dinner every Christmas Eve for the past ten years–Lawry's Prime Rib–and it's probably my favorite meal of the entire year.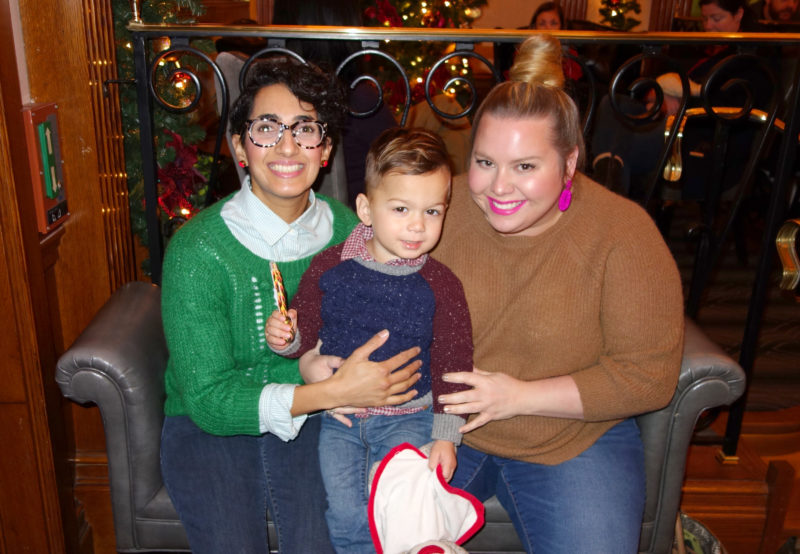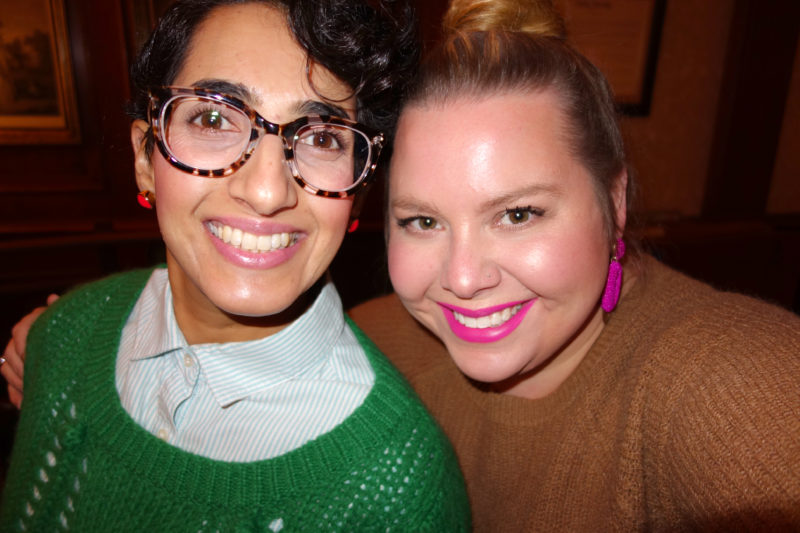 Can someone bring me this right now, please?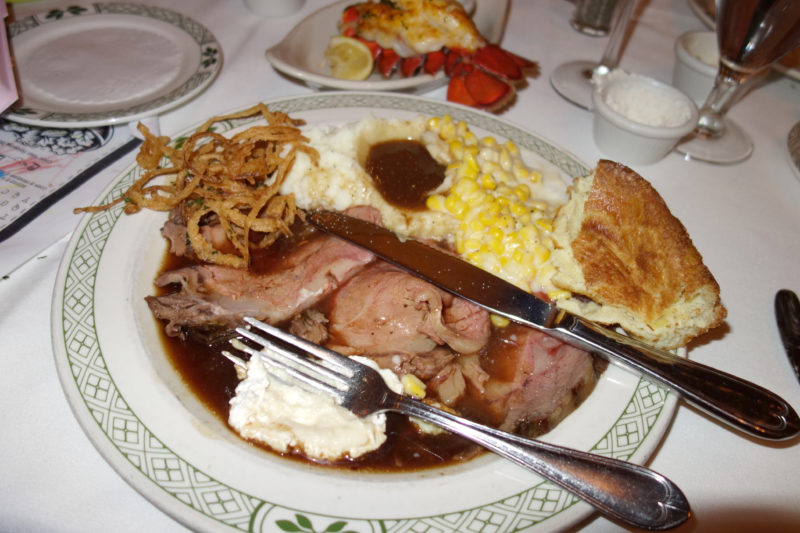 So far, we've had really good luck with Finn at Lawry's. He's always on his best behavior, especially if he has a book of stickers to entertain himself.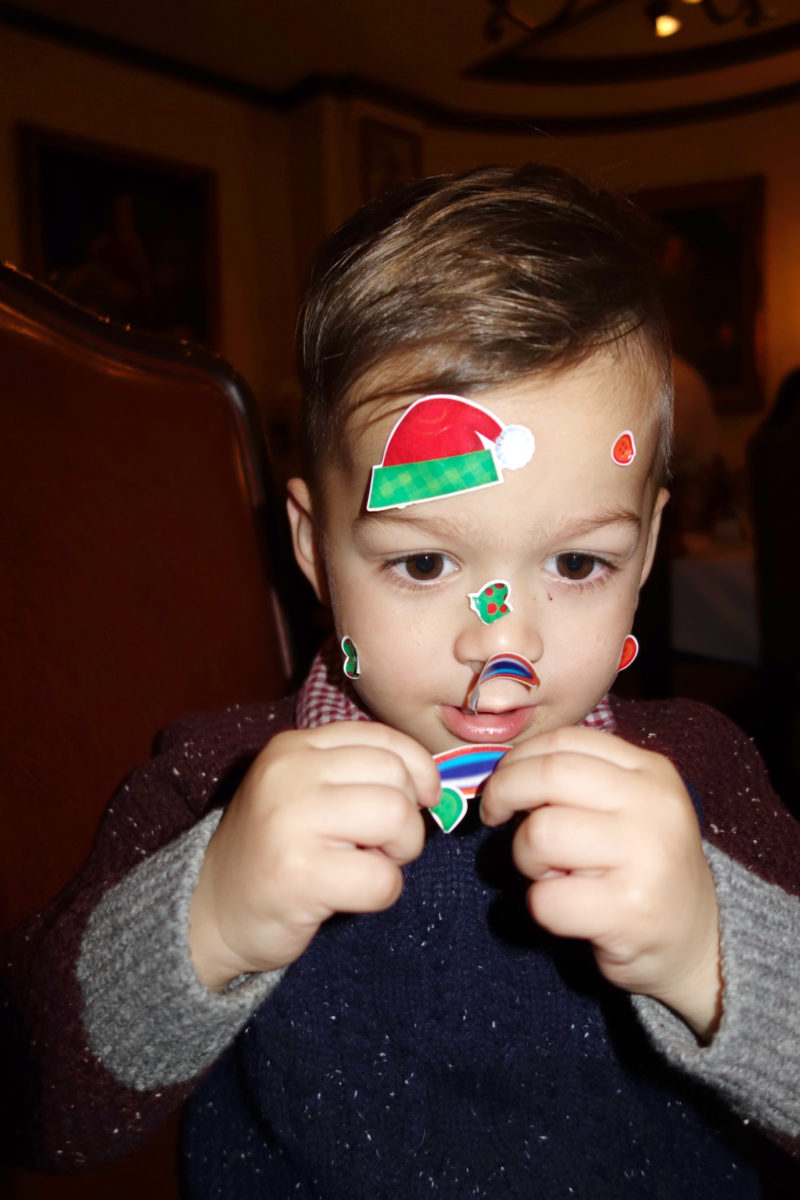 And for the second year in a row, he got his own GIGANTIC hot fudge sundae. I know he looks very serious in this photo, but he was really just concentrating very hard. He loved it.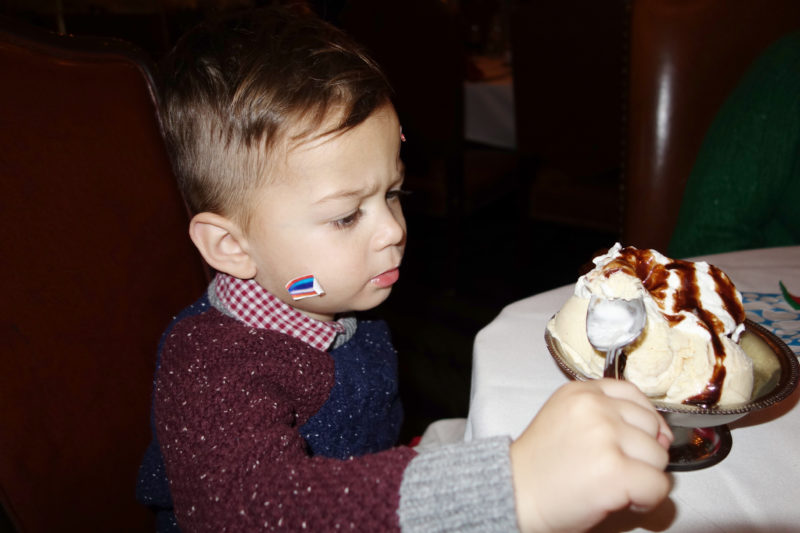 We went home, got in our matching PJs, and opened stockings.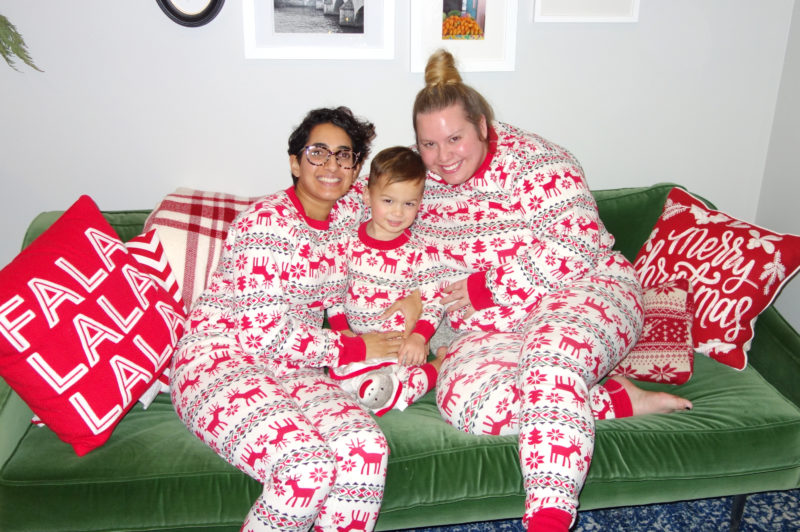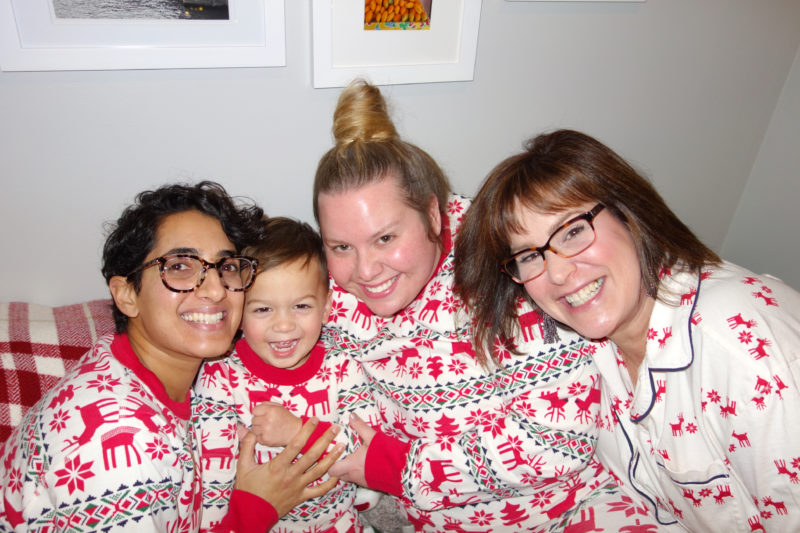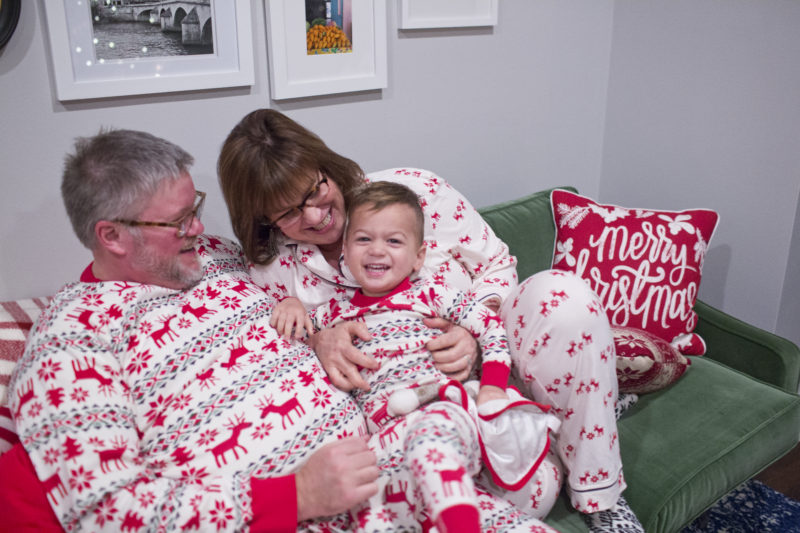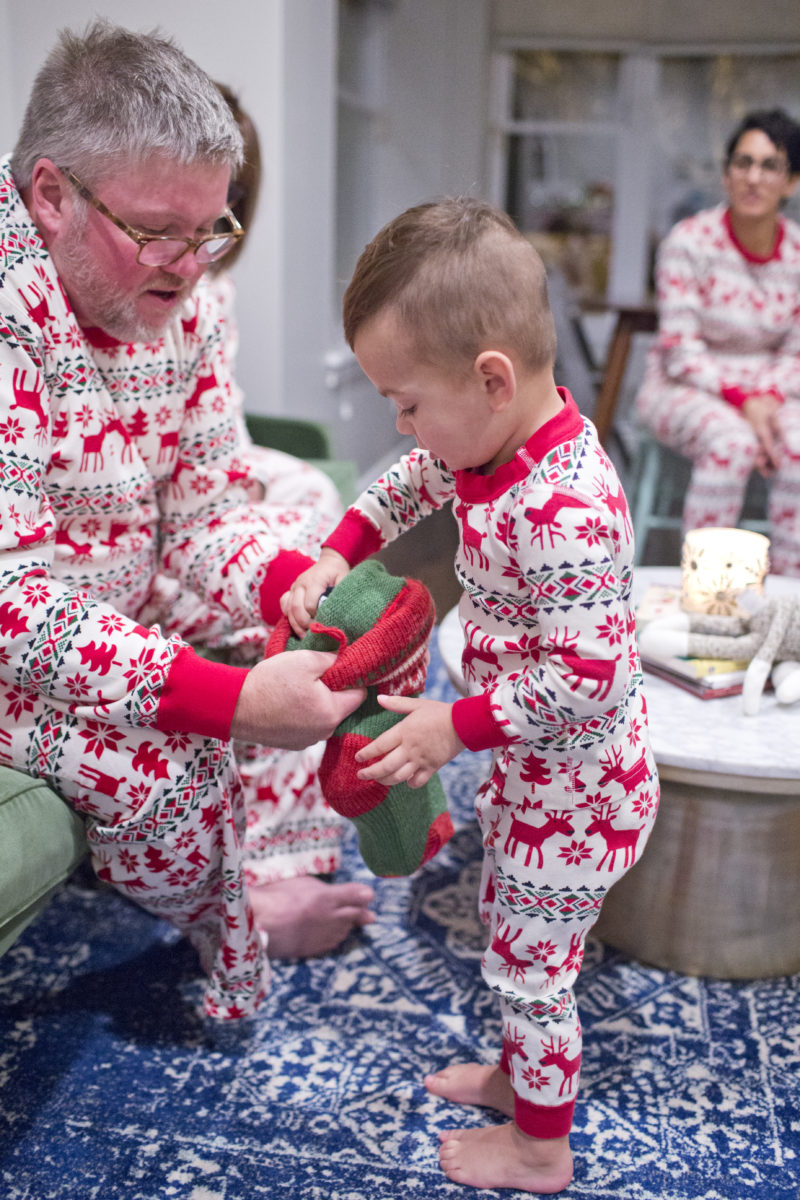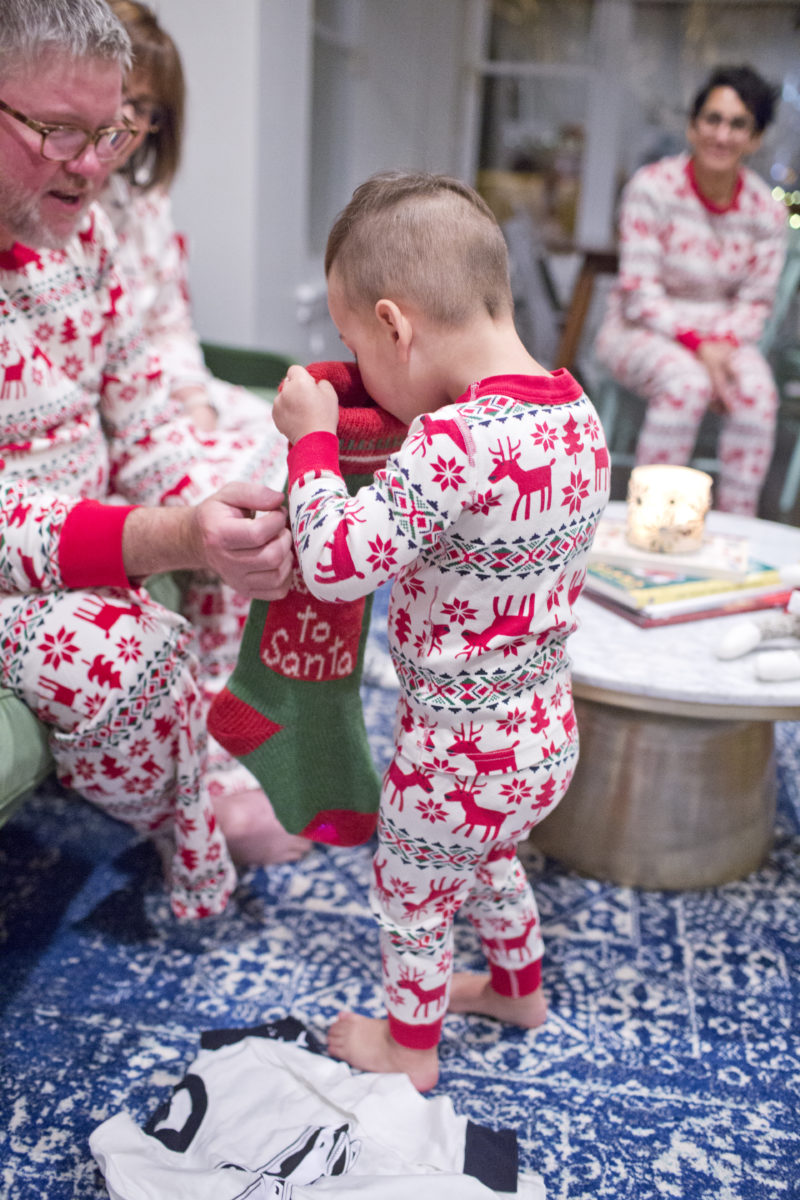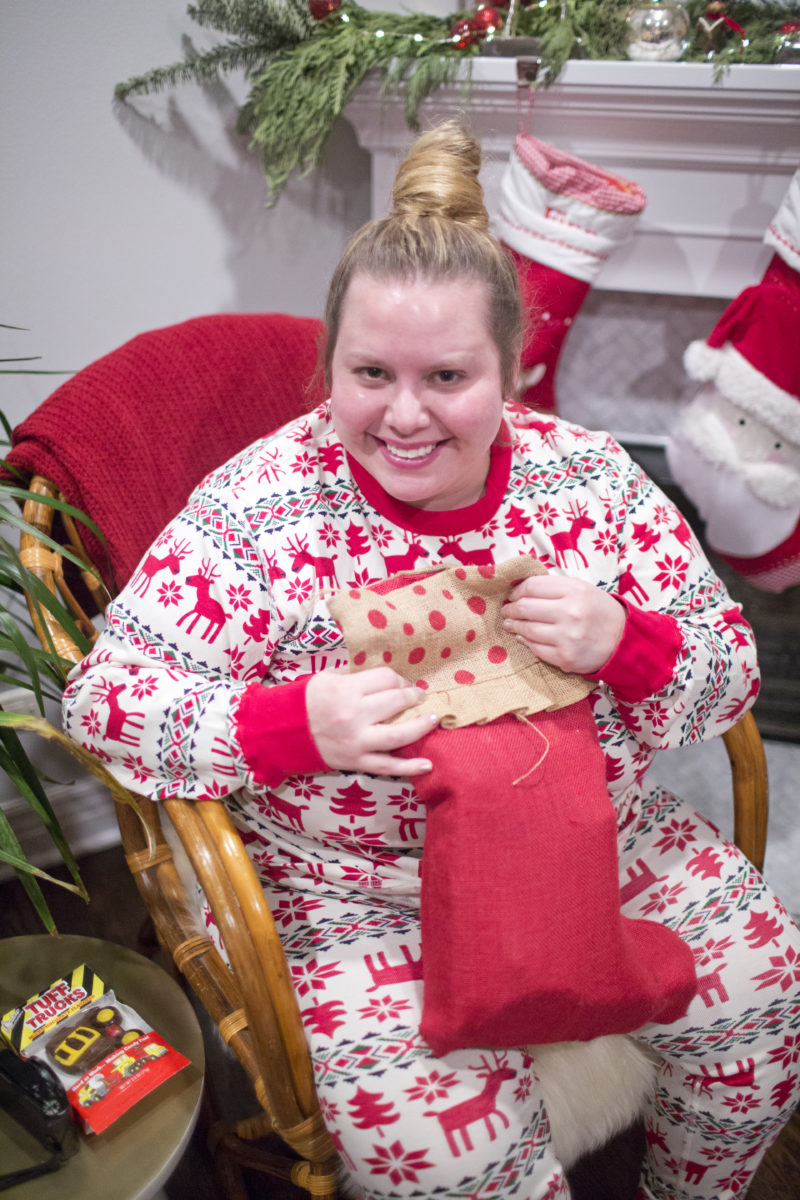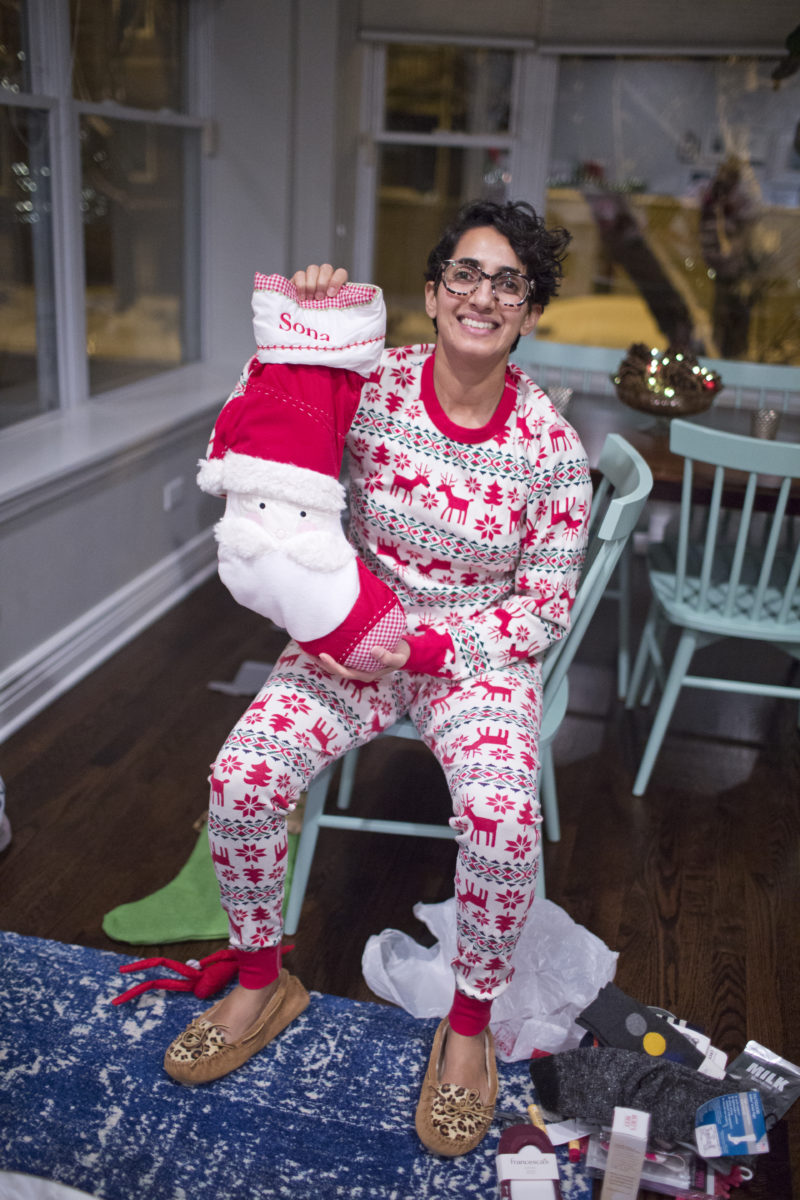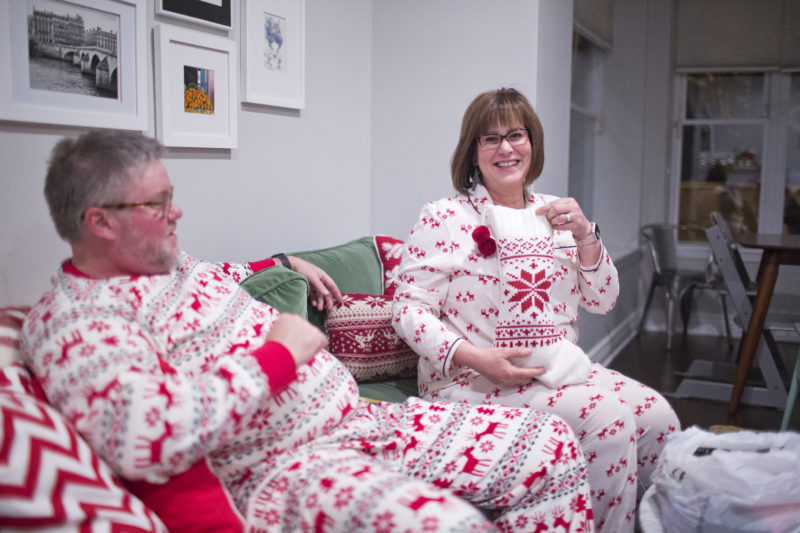 We also left cookies for Santa–and carrots for the reindeer. (Or "Sven," as Finn said.)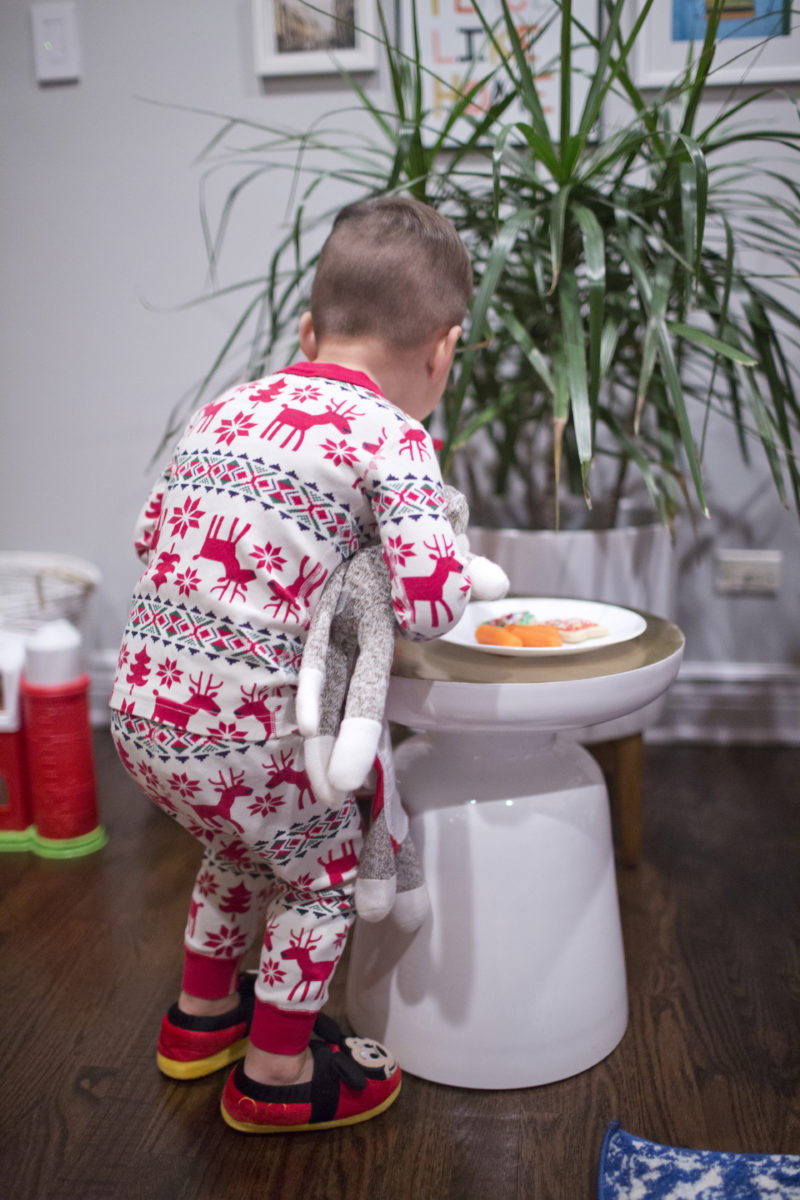 On Finn's first Christmas, Mimi and Pops bought him a copy of 'Twas the Night Before Christmas and committed to reading it to him before bed every Christmas Eve. That first year was pretty funny, as none of us had realized just how long the book actually was, and baby Finn lost interest pretty quickly. Well, 2 year old Finn wasn't much better at staying interested. Pops was trying to have a moment, but Finn just kept singing "Wheels on the Bus" over and over again as Pops was reading. We were all laughing hysterically.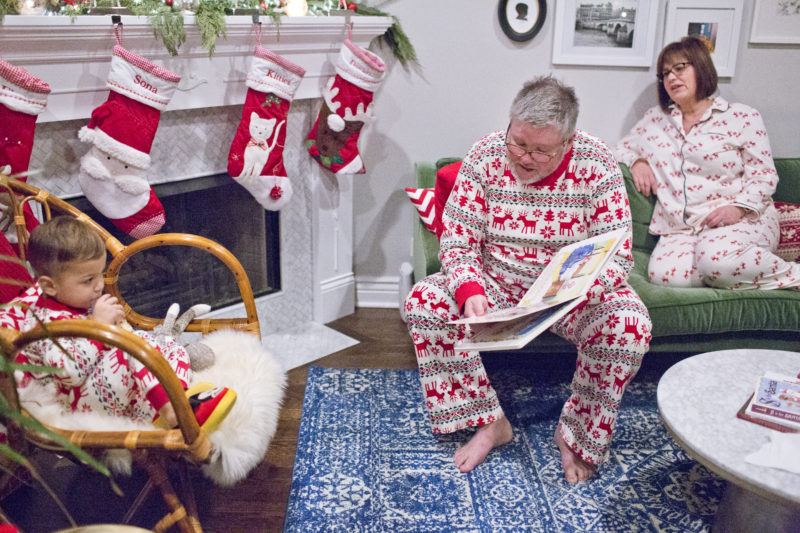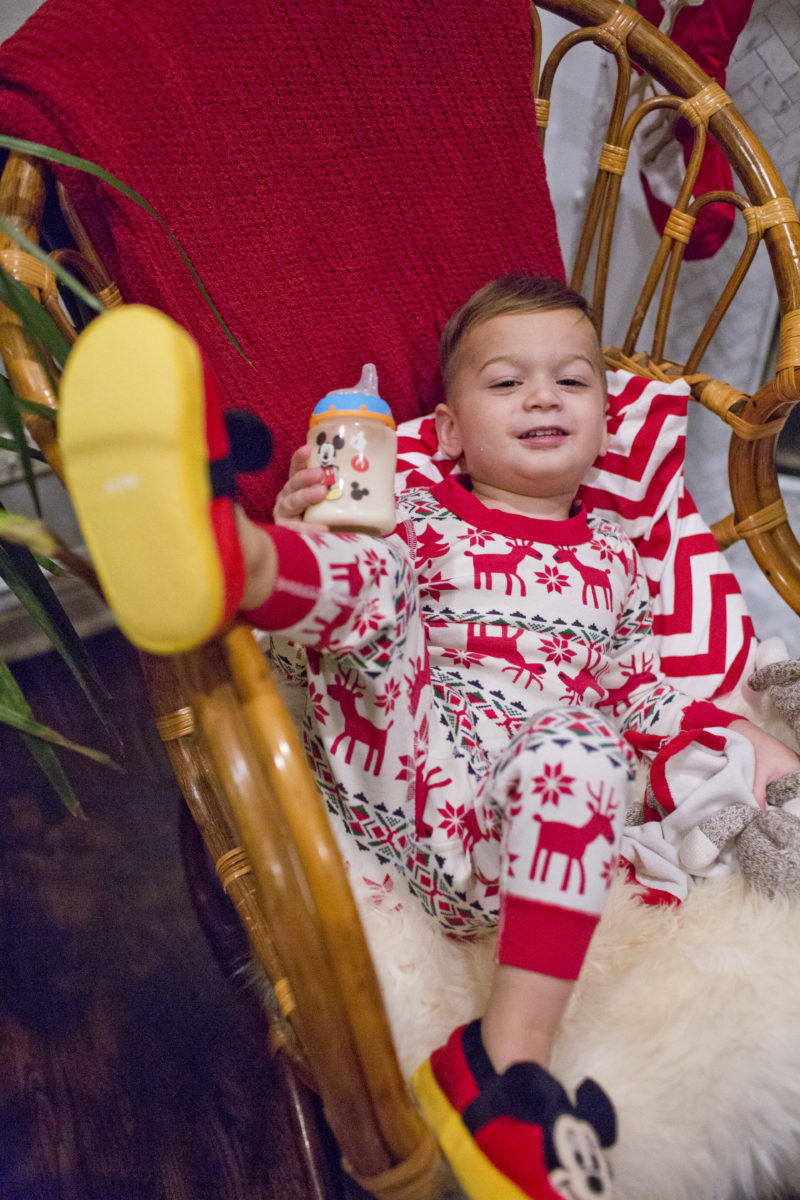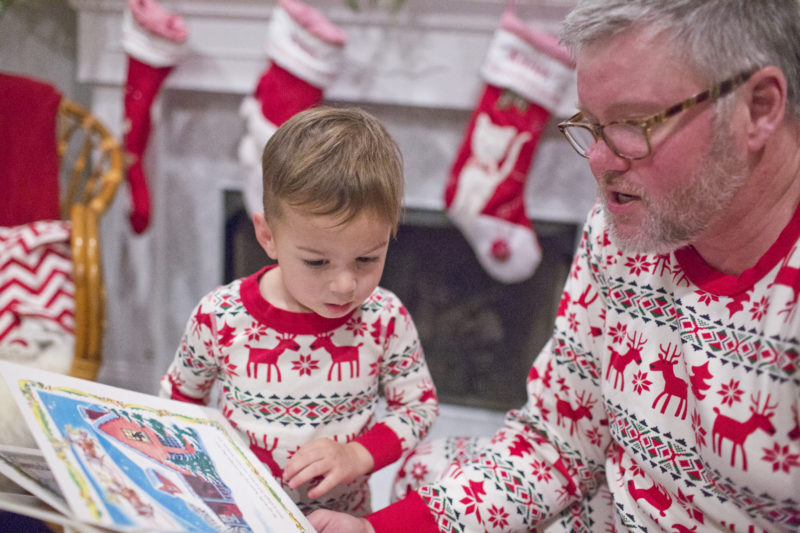 After Finn went to bed, Santa's elves went to work. Luckily, there wasn't a huge play kitchen (which never gets ANY play, btw) to put together this year.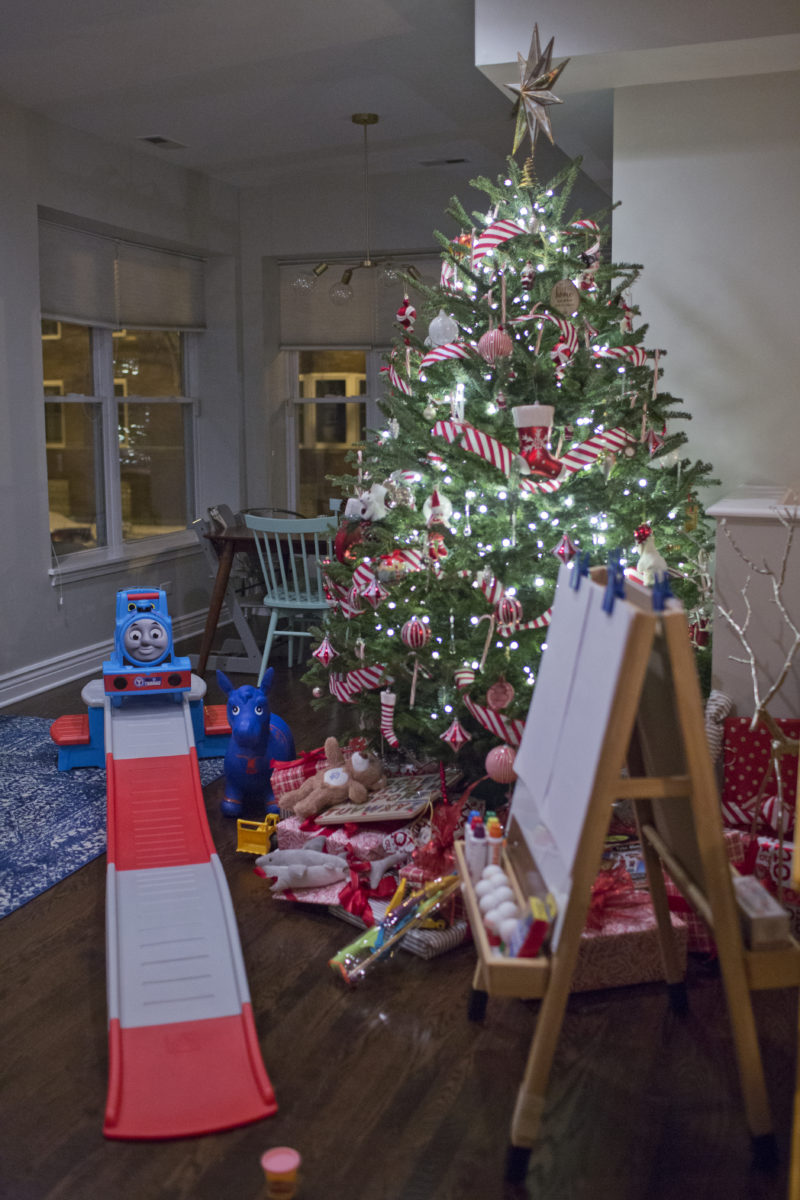 Santa left Finn a PlayDoh trail leading from his room to the tree, just in case he got side-tracked on the way there.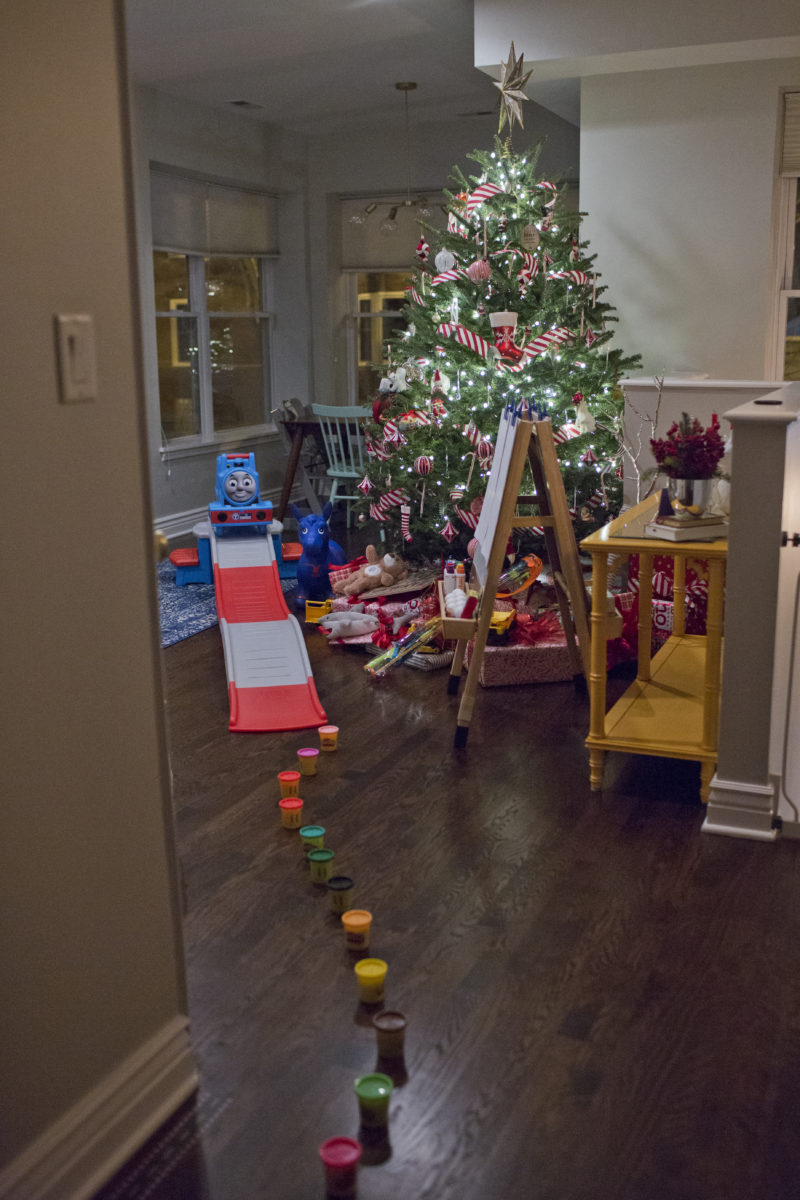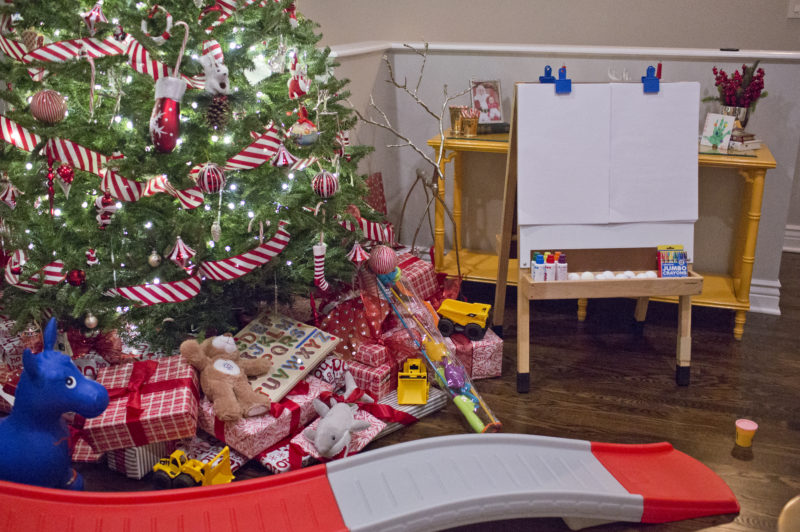 His Christmas morning reaction was… contained. He was excited on the inside?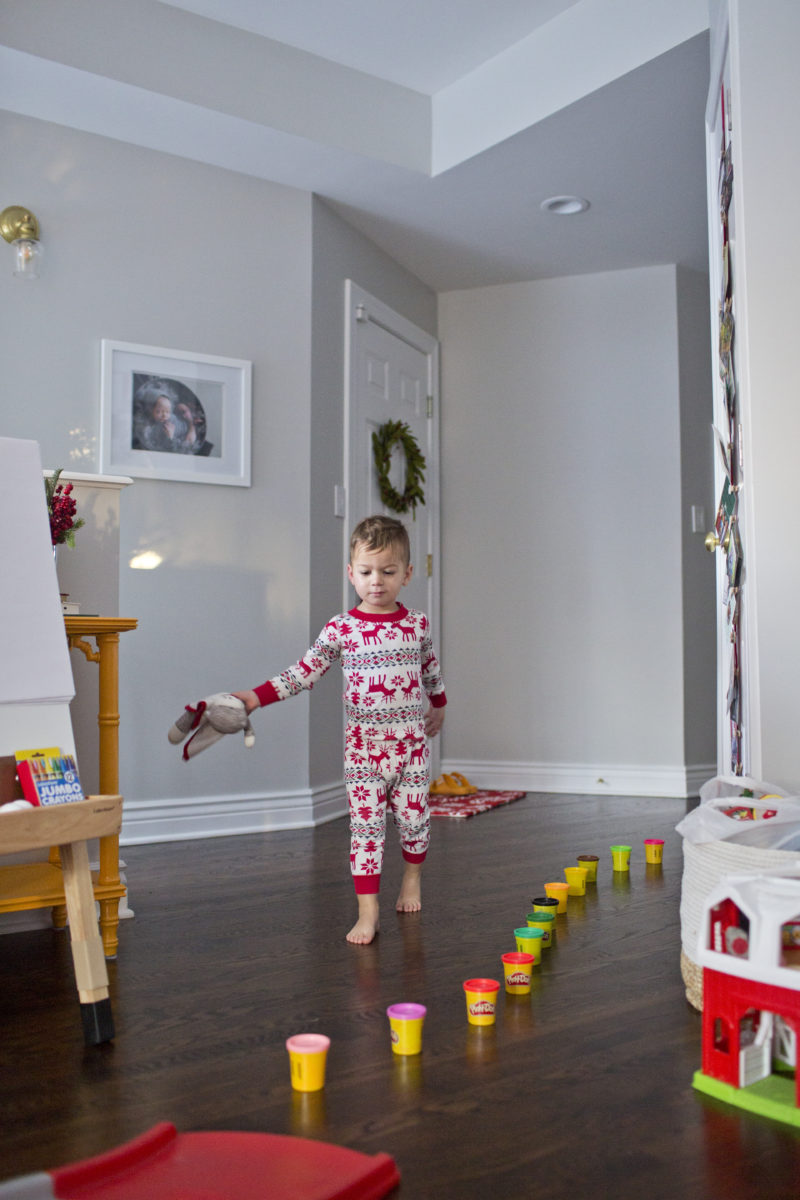 As we all suspected, the Thomas roller-coaster was the big hit. He rode it for a good 30 minutes nonstop. We had to create a crashpad with throw pillows to keep him from hitting the wall too hard.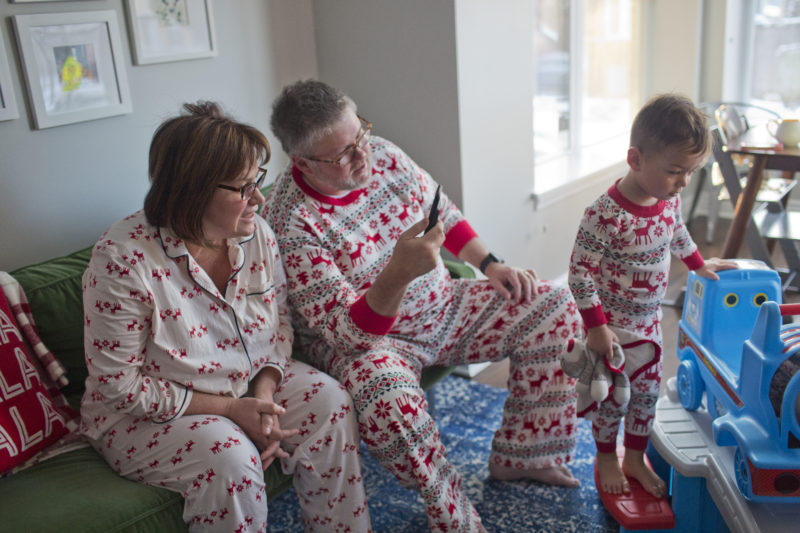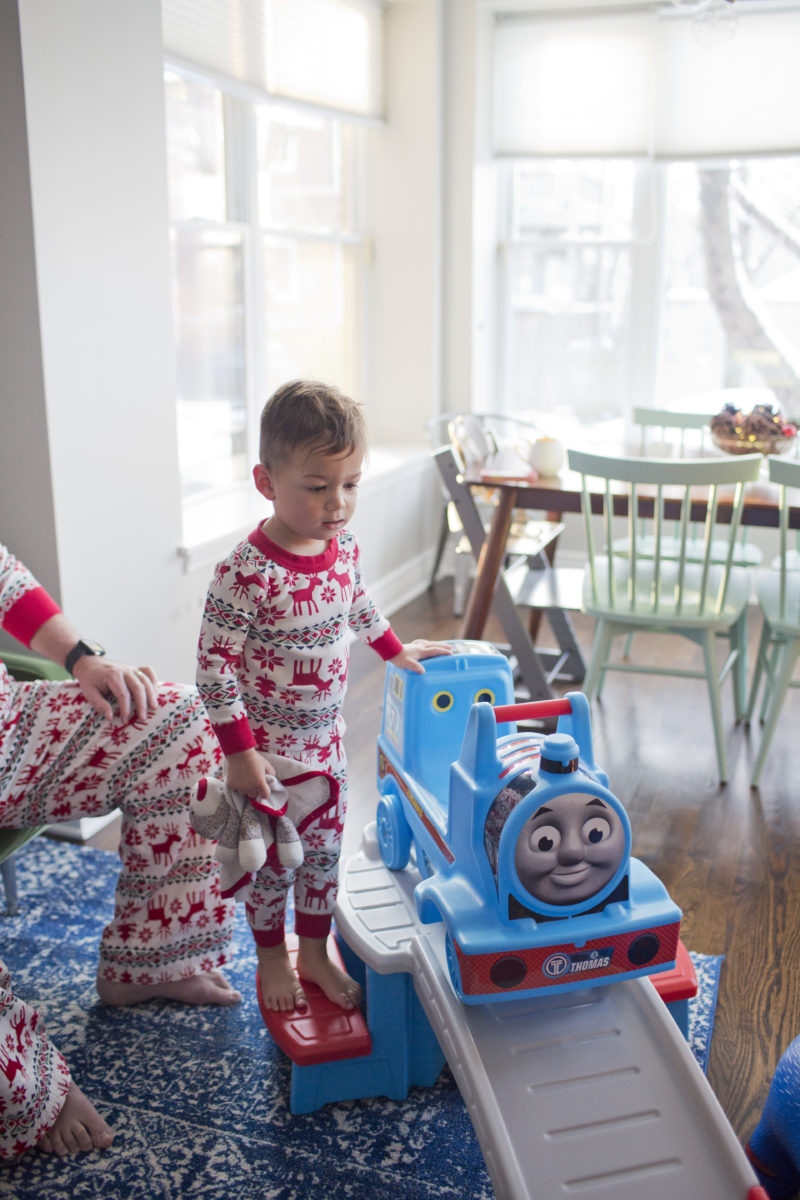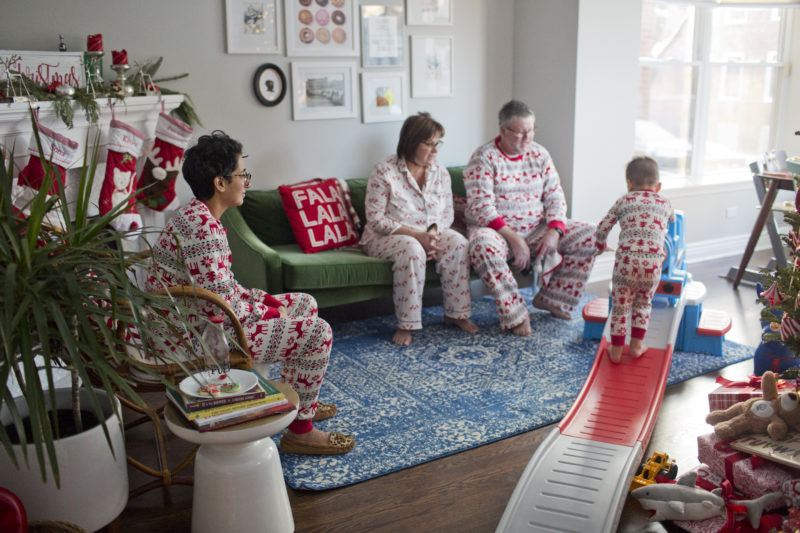 This year, we decided to let Finn explore all of Santa's gifts, which were unwrapped, and then we stopped to eat brunch. After we ate, we opened the wrapped gifts. It was a much better plan than last year, as Finn had plenty of new toys to occupy his attention while we leisurely munched.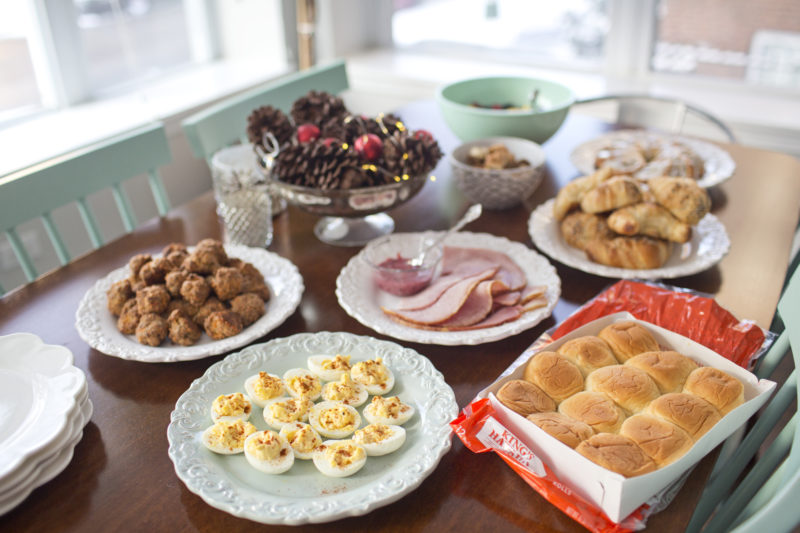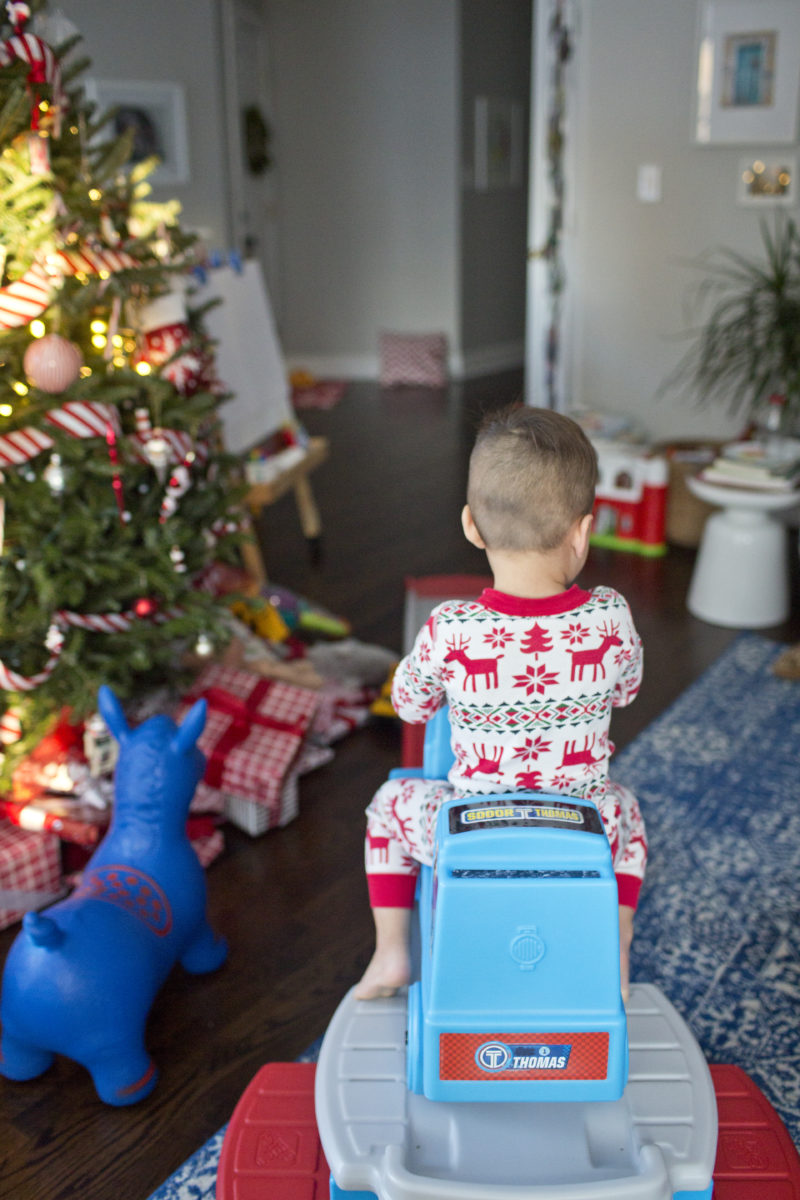 I'd used an iPhone app to "capture a photo of Santa" putting the presents under the tree. Finn was into it.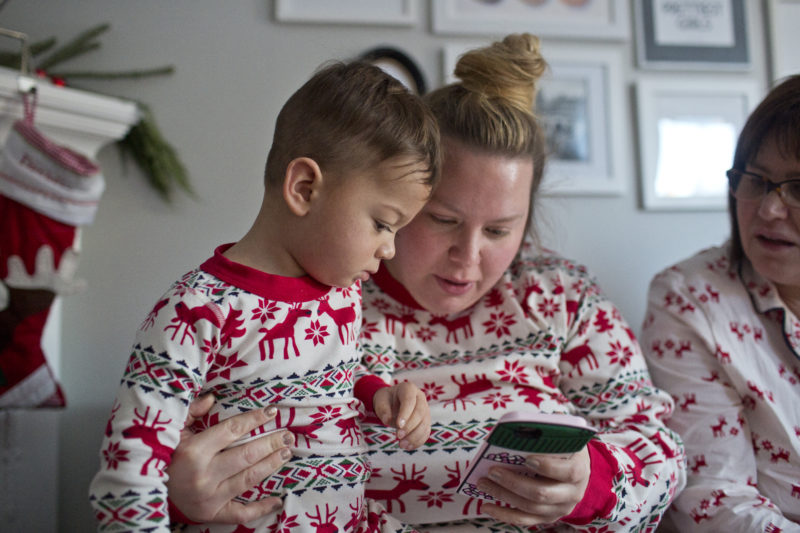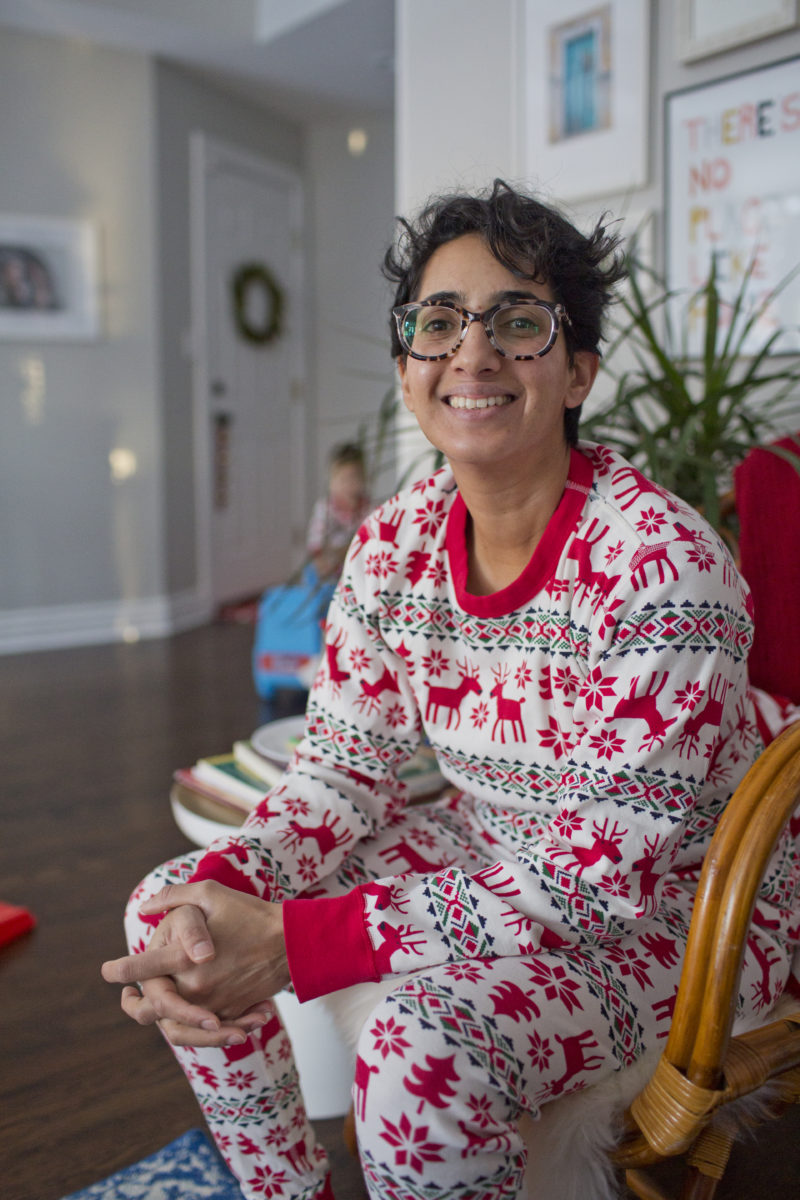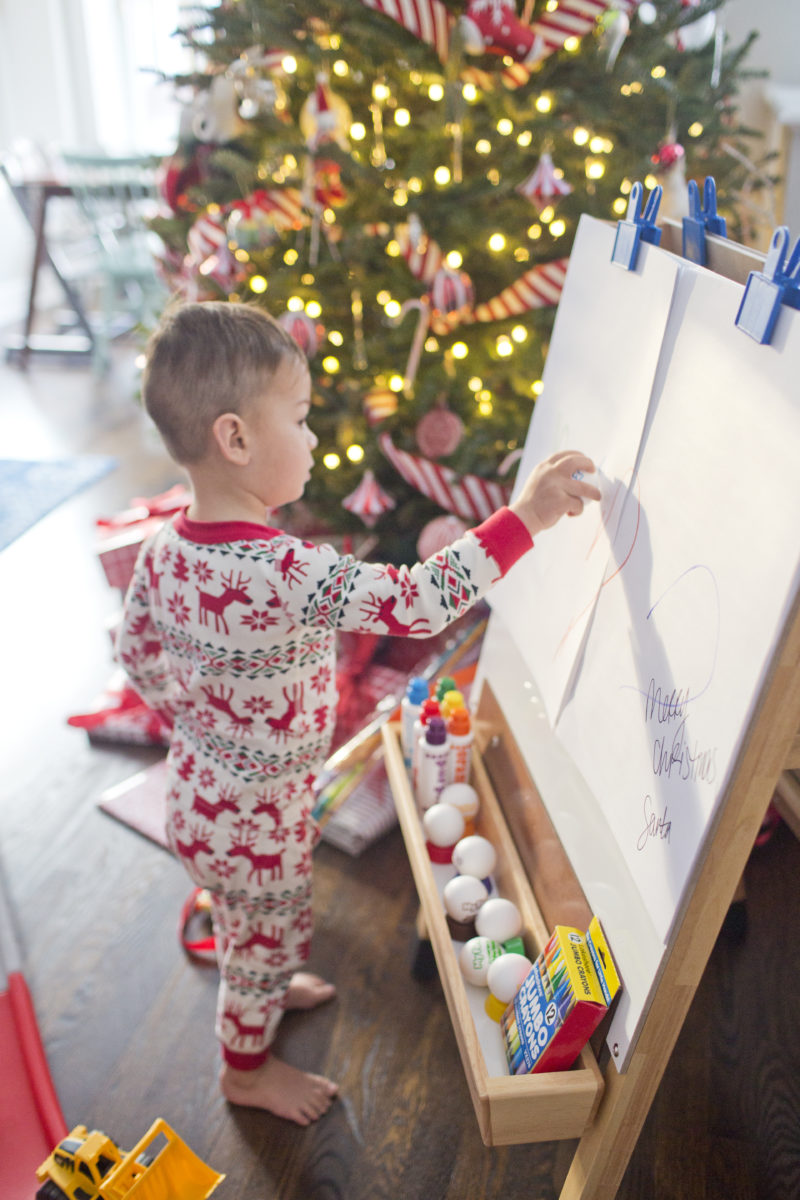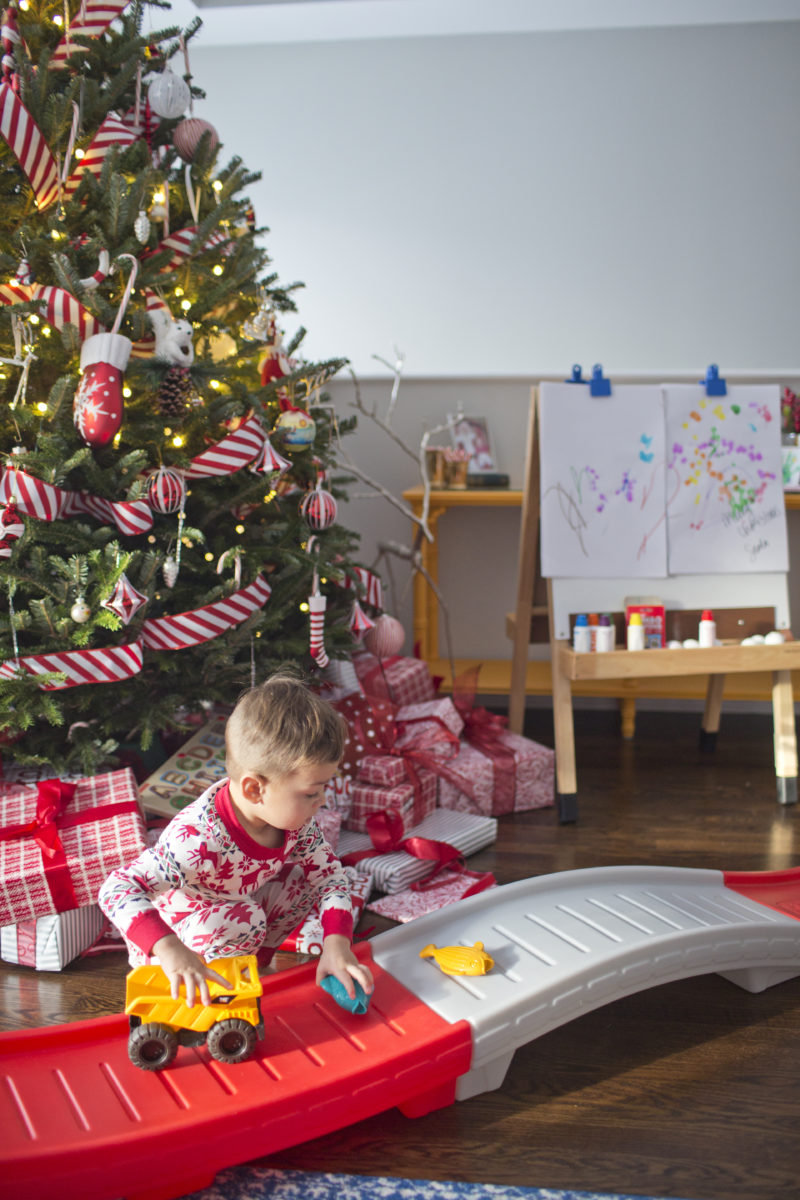 When we'd put out the presents the night before, we realized that–between my parents and ourselves–we'd bought WAY too much. The plan was to reign it in this year, and we really tried, but we still ended up with at least twice as much as Finn actually needed. Still, I have to say, he played with EVERY SINGLE TOY on Christmas day, taking his time to open one, play with it for 10-15 minutes, and then open another and do it all over again.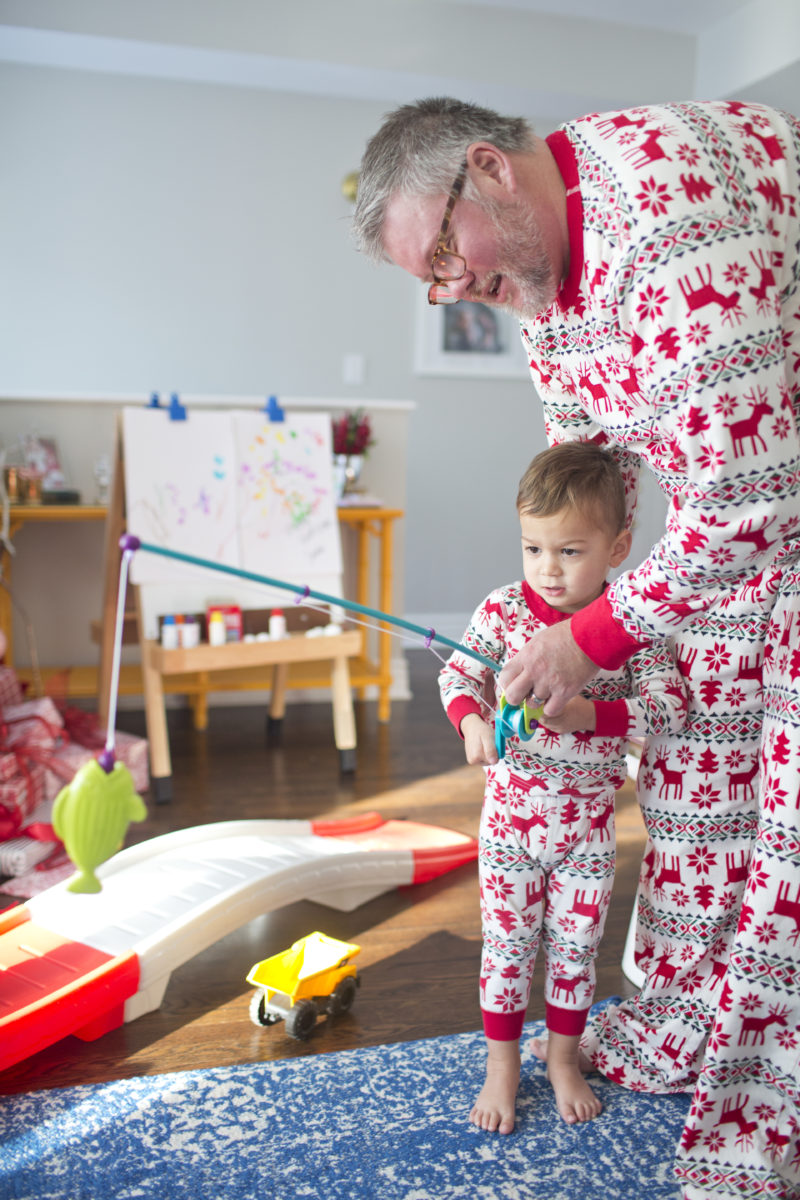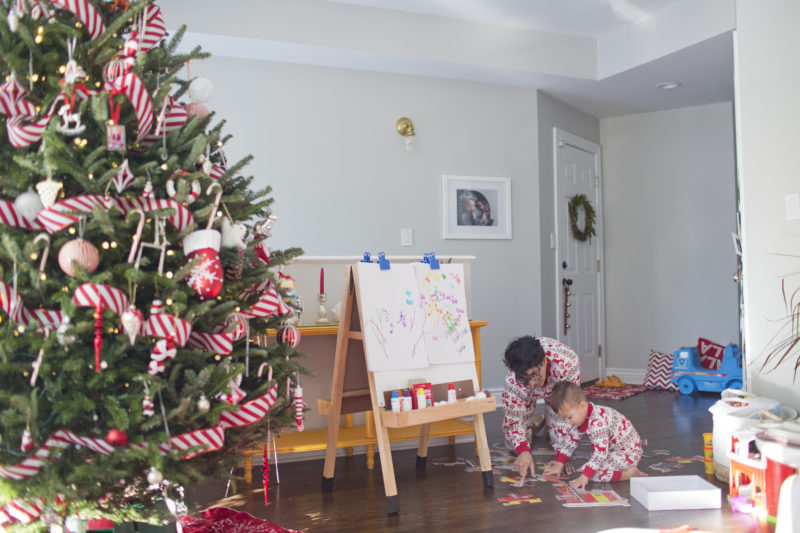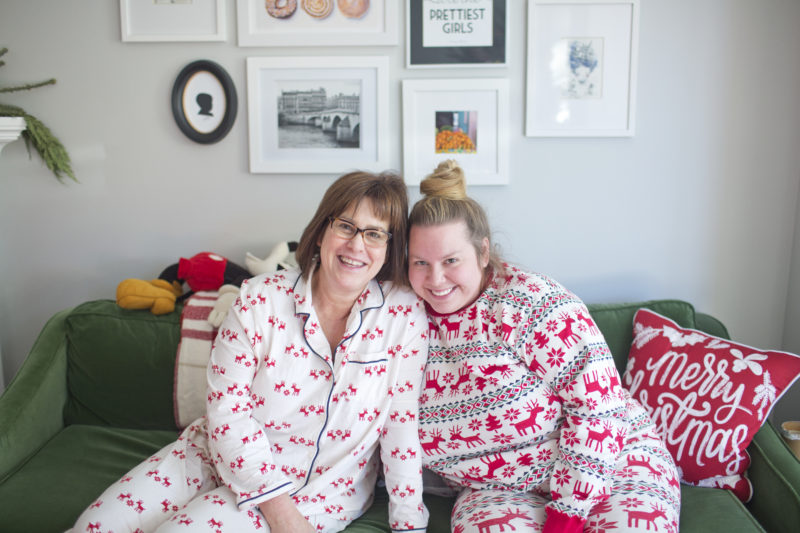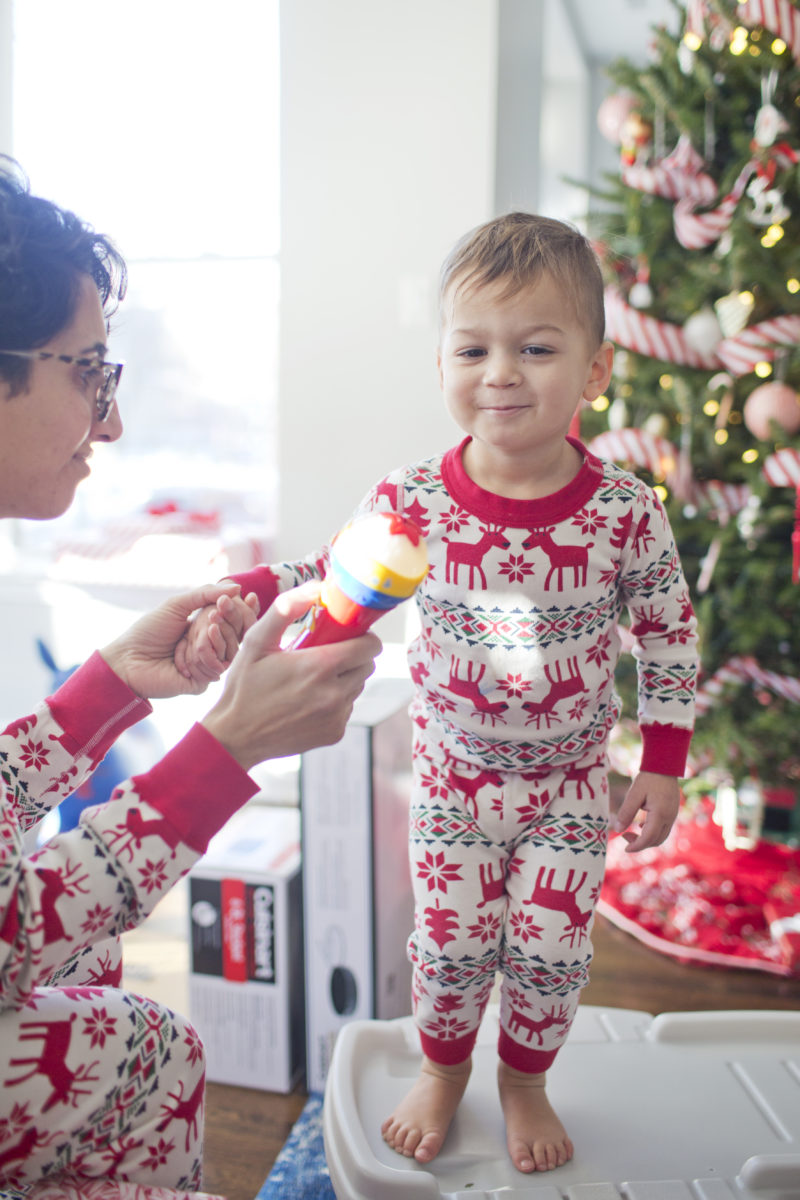 He played pretty much all day long. And the next day, too. We napped, ate, watched him, and napped some more. It was a really good holiday, and although I'm usually sad to see Christmas go, I'm ready for what 2018 has in store.